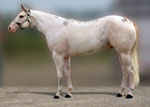 Ima Cool Pizzaz (APHA/PtHA)
Sire: Mr Pizzaz
Dam: Ima Shadow of Cool
16+ Hand Overo Gelding This red road overo gelding earned 38 halter points at his first Weekend Pinto Show.
38 PtHA Halter Points
3 Grands, 1 Reserve (PtHA)
IMA COOL PIZZAZ, 2 YR OLD GELDING - FOR SALE.

.


Click on Photo for a larger Image



---
2 year old breeding stock mare.
There is no question about femininity here. She is an own daughter of Simply Tradition. Mr Norfleet and Tin Man on her papers. Breed her for a halter horse that can perform. She is big, pretty, with an unbelievable slender neck, and she is still growing.
---
Frost On the Rockies
2 year old sorrel overo filly, paid up in 3 fall Breeders Futurities. She has got all the right moves. Sired by Rocki The Sequel and her mother is an own daughter of the late, great Teddys Splash.
---